If someone is the owner of such a flashlight, take a photo under the front cover. When I unscrewed the front part, it turned out that one of the wires was unsoldered. It will be necessary to choose the time and determine which postings soldered off. My copy is obviously defective, as the UV LEDs simply do not turn on.
3-in-1 15 1 3xAAA Flashlight (10 White LED – 5 UV LED – Red Laser)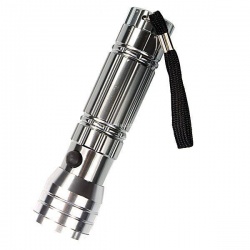 Three-in-one flashlight with white LEDs, laser pointer and UV LEDs. In principle, the flashlight itself is quite bright, and the pointer works perfectly.